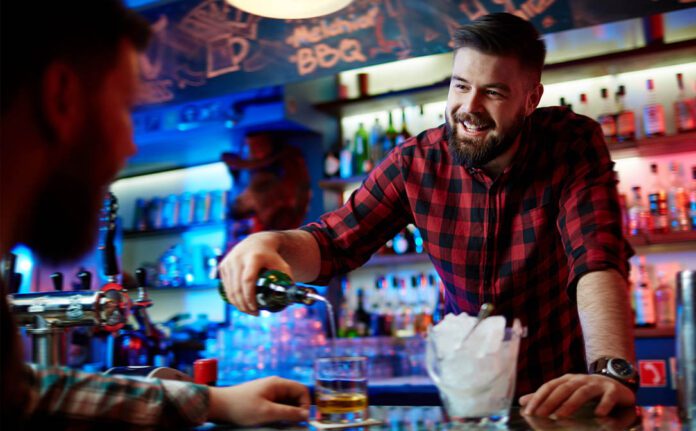 So you've done a bit of casual work behind a bar or two, and the bug has bitten you. Bartending is the career for you. You sit up nights experimenting with weird and wonderful cocktail creations -most but not all of which your friends love – you get yourself a snappy bartending outfit and a battery of equipment, and you even have a sneaky practice juggling bottles. You're ready to go. Well, no, wrong. You need to acquire a bit more bartending knowledge than how to make the perfect twist of lemon peel and put out fresh peanuts. A bartender's guide will help you immensely.
If you can't enroll yourself in a bartending course (and you should make every effort to do so), you must at least arm yourself with a bartending guide. These can be found in print versions or online.
A good bartender's guide will advise and teach you in some critical areas. These include:
The qualities you need to become a great bartender
What your duties are as a bartender
Basic and advanced bartending skills and techniques
How to make mixed drinks
Cocktail garnishes, when and how to use themsuch as pear cocktail garnishes
Specific gravity charts (to help you make those fabulous layered creations)
A bartender's responsibilities under the law are an important area that you must get well under your belt before heading out into employment as a bartender. It includes health and safety and things like the laws on the drinking age.
The duties of a barback (the bartender's assistant)
Bartending equipment and tools
Measures and glasses
Being a bartender is not just a fun job although it is a fun job. It's a lot of fun, so you want to do it. It's also a job that many people set off in, thinking it's just a romp in the park, only to end up in miserable failure.
As a bartender, you have a lot of responsibilities. You have to first and foremost ensure that you and the establishment you are working in are obeying the law. That means knowing how and when to card, how to deal with people who've had too much to drink, how to deal with people who seem as if they are about to drive intoxicated, and a whole raft of health and safety issues.
You need to make sure that you're charging the right amount, dispensing the right amount of alcohol, giving the correct change, keeping everything clean, and being prepared for rushes and lulls; in other words, your bar is being run in a businesslike way. You have to make sure your customers are happy, comfortable, and secure in their environment and, of course, that they are enjoying their beverages and ordering more.
And the height and pinnacle of your calling; you have to be a master mixologist, making excellent, delicious, exciting, and attractive drinks night after night.