Digitalization has revolutionized our lives and workplaces, which is why you can use an electronic signature. Paper signatures are being replaced by electronic signatures. eSignatures were the only option due to the covid-19 pandemic that boosted remote work.
That's why using traditional signatures for business and personal purposes is impractical, especially when dealing with people across vast distances.
In addition to in-person appointments, physical signatures require scanning, printing, mailing, or faxing of the document to the appropriate party. This is a lengthy and time-consuming process.
That's where e-signature software comes in! The process is automated and hassle-free. You can now improve your productivity and workflows while avoiding the issues associated with the old-fashioned practice of signing documents.
Here's some information on eSignatures, and some software you can use to create them.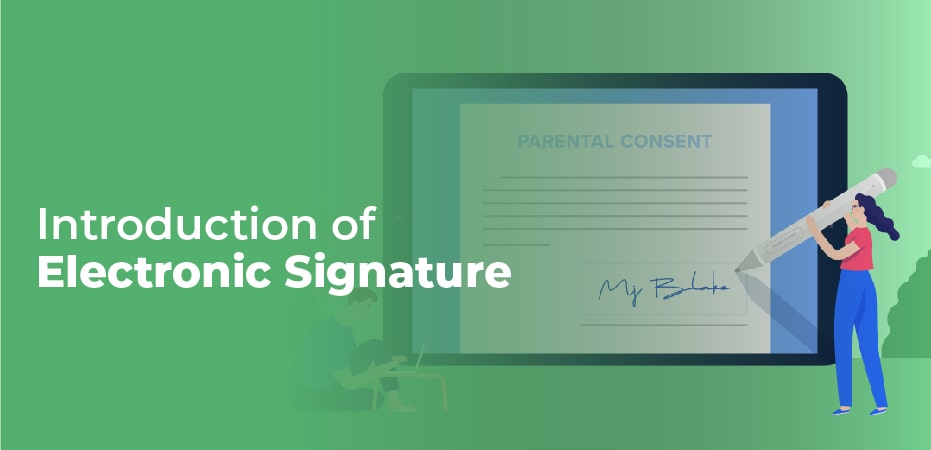 Introduction of Electronic Signature:
Electronic signatures (eSignatures) are encoded forms of signatures that confirm approval of electronic contracts or documents. The software that enables people to sign documents online is known as electronic signature software.
With this software, you can send a document to multiple people by uploading it to your computer, tablet, or smartphone. In this way, they can sign it online without having to go through the traditional process.
By embedding entry forms into your documents, you can effortlessly collect and store signatures.
Top 3 eSignature Solution:
Here are the top 5 solution of eSignature emails for personal and business documents.
Ever sign:
Ever sign automates both client-facing and internal signatures as well as approvals. A business of any size and scale can sign up for this tool with ease and security using any device.
A built-in editor allows you to edit, sign, and send documents in no time. Ever sign also provides a fully-featured and powerful JSON-based REST API to automate the functionalities.In addition to its templates, audit trails, in-person signing, integration, compliance, etc., it has other features as well. Our infrastructure is closely monitored, and 256-bit SSL security is in place.
Any auto-expired document can also be scheduled, removed permanently, or exported somewhere else. A team can have up to 25 members and multiple businesses can be managed at the same time.
It is free to use for 5 documents a month and 3 API documents. For unlimited documents and additional features, you can use its paid plans starting at $9.99/month.
PandaDoc:
PandaDoc provides legally binding eSignatures that are convenient and legally binding.
This solution saves time and resources for more than 20k companies. You can use PandaDoc to send proposals, quotes, contracts, and payments that require approval.
This is a solution that can be used anywhere and on any device; you like to streamline your work quickly. PandaDoc's eSignature technology is completely compliant with ESIGN and UETA and never compromises on security. In addition, each signed document is accompanied by an electronic certificate.
Instead of guessing, use their document analytics plus notifications to get an instant outlook when a prospect opens your documents or views and comments on them. You can choose from 200+ professional-looking templates that will make a lasting impression on your business.
Additionally, PandaDoc integrates with a wide variety of third-party applications to speed up your workflow. The list includes HubSpot CRM, Zoho, PayPal, Dropbox, Slack, etc.
Nitro Sign:
Provide your clients with a convenient eSigning experience using Nitro Sign.It does not charge per signature, does not have usage tiers, and eliminates overages. Whether you work with spreadsheets, forms, blueprints, or contracts, Nitro simplifies eSigning.
It's compatible with multiple internet browsers and mobile phones. Nitro Sign is secure and compliant with US eSignature legislation. By sharing documents online, reviewing them, and annotating them in the cloud, it facilitates seamless collaboration.
The analytics and real-time notifications available in the app let you track workflows and invite others to comment on the documents. Nitro Sign uses two-factor authentication, audit trails, and advanced compliance certifications from HIPAA, SOC Type II, Privacy Shield, etc. to protect your documents and data.
Create, combine, convert, and organize PDF files on your device to boost your projects and provide a better experience for your customers. In this way, it eliminates human errors.