The rapid growth of web-based email services is slowly putting an end to desktop email clients. Interestingly, most web-based email services offer enough features to compete with desktop-based services.
There are two main options: Postbox and Microsoft Outlook, but both are expensive. You can likely make do with a free email client if you need it to manage just one or two accounts. Here are our top picks for free desktop email clients.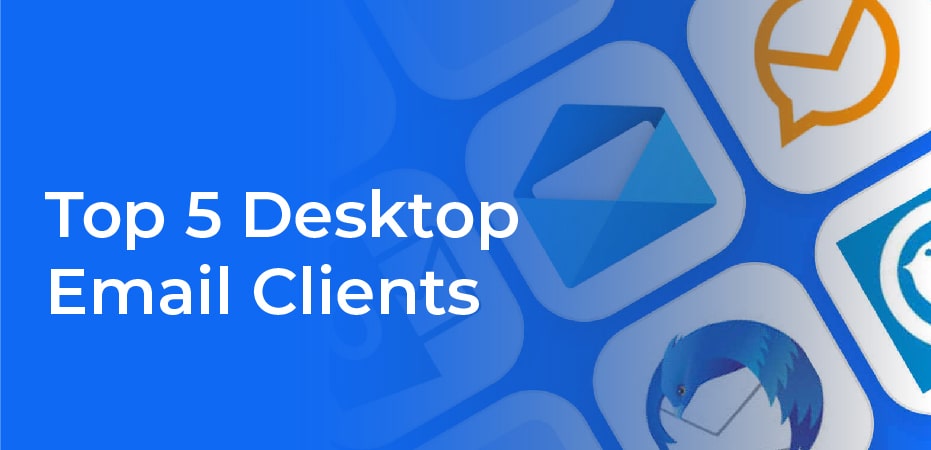 Top 5 Desktop Email Clients:
Here are our top picks for free desktop email clients. Please read more below.
Thunderbird
Thunderbird development was stopped in 2012, but it still receives maintenance updates, so don't think it's dead just yet. At the time of this writing, the latest release (version 78.10.2) was released in May 2021.
Thunderbird is unlikely to receive any new features in the near future, but it is still useful for everyday personal use. There are versions for Windows, Mac, and Linux.
Unfortunately, Thunderbird is the only free and open-source desktop email client that's worth using. Other open-source clients are available, but they're hampered by clunky interfaces, sluggish performance, and lack advanced features.
Thunderbird is your best option if you're adamant about never spending a penny or switching to a web-based email client. Thunderbird can do pretty much anything you need, such as setting up message filters, auto-responding to emails, and many other handy little things.Additionally, Thunderbird is the best email client for Linux users.
Mail Spring:
When Nylas Mail hit the scene back in 2016, it looked like it would take all other desktop email clients to the next level. However, in August 2017, the team announced that they would no longer be working on Nylas Mail and made the source public.
Nylas Mail was relaunched as Mail spring by one of the original authors. Through his optimizations and improvements, he was able to improve syncing, RAM usage, launch times, and more.
Mailspring is the client to use if you want something new, exciting, and full of potential. Thunderbird may be the client of choice for those who prefer reliability and time-tested reliability. You can use it for free indefinitely, but some advanced features require a subscription. It can also be used in conjunction with a secure email service.
Sylpheed:
There has been an email client called Sylpheed since 2001. Even though it feels dated compared to modern email clients, it isn't bad at all. If your email habits are causing you undue stress, its old-school interface and approach to email management could prove helpful. Sylpheed, too, is available on Windows, Mac, and Linux, much like Thunderbird and Mailspring.
One of the best things about Sylpheed is that it knows what it is: an email client. It does not have tons of unnecessary features that bloat the installation or clutter the interface. Sylpheed provides great functionality without being heavy.
In addition to fast launch and overall performance, the app offers advanced email search and filters, junk mail control, encryption, and plugin compatibility.
Mail bird:
Mailbird is probably the best desktop email client if you have never used desktop email before. Some elements will feel familiar if you are switching from another client. There will be some that will impress you, and there will no doubt be some that you dislike.
Mailbird is a desktop email client for Windows that tries to optimize the user experience. The Mailbird beta is available to Mac users.
You should at least try it out. The site is slick and modern, and it has many appealing features. The free version is limited in some ways since it is a freemium app.
eM Client:
A single application to address office tasks and communications, eM Client aims to be an all-in-one solution. Integration with calendars, tasks, contacts, and even chat support are all included. There is only one (albeit major) limitation with the free version.